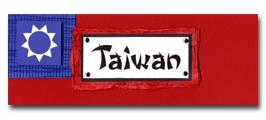 Okay, so evidently the laptop I used to journal on my Taiwan trip may be permanently corrupted. I have a notoriously bad memory, but I guess I'll just have to dredge around and see what I can recall. Below are general highlights, ramblings, and photos from my trip to Taiwan.
Day 1
After surviving more than 20 hours of flying (it was better than expected), I finally landed in Taipei. I have to admit I was a little nervous relying on others to pick me up at the airport and get me to the hotel. Needless to say, I worried for nothing because there were signs (with smiling faces behind them) waiting for me as soon as I exited customs. It didn't take long, however, for me to inadvertently experience my first bit of Taiwanese culture. The driver, who didn't speak English, kept chewing on these nuts. After about 20 minutes, he offered the other passengers in the car one saying it was like chewing gum. Not wanting to appear like the American who was afraid to try new things, I hesitantly said okay. Needless to say it was the first of many gross things in Taiwan that would eventually make their way into my mouth. This "chewing gum" is otherwise known as betel nut. Betel nut tastes like chewing a cigarette or tobacco (though I've never tried chewing tobacco others have compared it to this). You don't swallow it, simply spit it out. Evidently, it also results in a high similar to smoking to cigarettes and is also unhealthy. Needless to say, naive old me gagged after a couple of chews and immediately spit it out.
Day 2
My first full day in Taipei marked the beginning of the Beyond Dams conference and my continued initiation into Taiwanese culture. At breakfast I met the rest of the conference speakers who I would be traveling around Taiwan with...activists from Japan, Korea, Vietnam, Hong Kong, Philippines, Thailand, Cambodia, and Burma.
Beyond Dams group at the hotel in Taipei
We took the Taipei metro to the conference site, a local university. It reminded me a lot of the DC metrorail system (clean, easy to use) with the exception of everything being in Mandarin. The conference itself went over well. I managed to get through my first speech of the trip and fielded a number of questions from the participants. Many of the questions seemed to involve how my organization, American Rivers, obtained both political and financial support to run our campaigns...a true sign of the obstacles activists in other countries are up against. Unfortunately, they only had translators available for those who were presenting in English. This meant I didn't understand a thing when the presentations were in Chinese and no translation was offered.
It's also hard to forget the EARTHQUAKE that rocked the middle of the conference. All of a sudden the building starts shaking and doesn't stop. In fact, it continues for over a minute and only gets more violent. I just sat there confused at first, then thinking (great) I'm going to die of a natural disaster in a place like Taiwan. The people from Thailand were diving under the table. Needless to say, it ended and no one was hurt. While it was Taiwan's biggest earthquake since 1999 (7.something), it was centered in the ocean and only caused real damage up in the mountains.
The ubiquitous box lunch...my first Taiwanese meal. Forgetting I was in Taiwan for a brief second, I expected a sandwich. Ha! I opened my box to find a fish (complete with head, tail, skin, and bones) on a bed of rice.
Let me digress for a moment. For those of you who don't know, it's best to learn now that I don't really like fish and really don't like to eat food served in its original form...reminding me that it was once alive.
Needless to say, I ate the rice.
Continuing on the theme of meals, that evening's dinner only got more challenging and exotic. The dinner was an elaborate 7-8 course affair that was served family style. They just kept bringing these huge dishes of things I really didn't want to eat. But, as I mentioned earlier, I was determined to try many things and broaden my experiences (by try, I mean one bite...maybe two). Again, there was another whole fish, something we surmised as squid, some kind of shrimp with eyes, a jiggly, slimy brown mold of something we think was pork.
Some images of Taipei and the hotel where I stayed...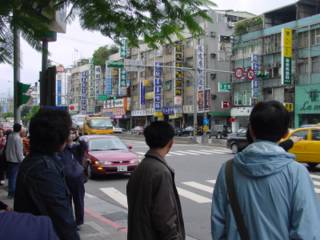 Day 3
This morning everyone boarded a bus for Kaohsiung. First stop along the way is a local dam. The recent series of typhoons have filled in the water supply reservoir with sediment and rendered it useless. As a solution, the government is going to build a new dam further upstream because obviously (insert sarcasm here) it will be immune to the same sediment problems. Evidently, my picture was taken at this dam by a reporter and appeared in one of the local papers (pretty sad they don't have anything better to write about).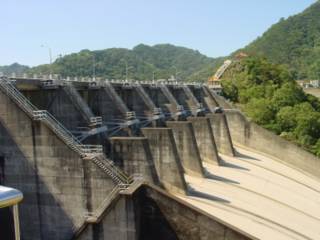 Shihmen Dam, first stop in travels to Kaohsiung
Sedimented in reservoir behind the dam
Concrete banks of river downstream of dam
The second stop of the day was at the small village of Yulin, site of a proposed dam. Local activists talked with us about their fight to prevent the Hushan Dam from being built and students performed a skit about the plight of the animals that would be affected. Hushan Dam is said to be needed to supply water for coastal industry. The presentation part of the meeting was at a small restaurant that really made an effort at incorporating the outdoors into the design. The lunch we were served was another elaborate 7-course meal. Additions to the menu included whole mini squid, bugs, and chicken (complete with the severed claws and head right on the plate). Atsuko, a woman from Japan who sat by me during the meal, called the fare "exotic". And, yes, because I had pledged to try everything I ate a bug. This is not a misprint. The bug phobic herself steeled her nerves and ate a bug! To tell you the truth, it was crunchy and flavored with spices, but I still had to work not to gag because I knew what it was.
Site of the potential Hushan Dam
By the time we rolled into Kaohsiung, it was dinner, and we again went in search of a meal. At this point in the trip, any thought of having to eat practically drove me to tears.
Day 4
Day 4 was all about the second session of the conference. I began my morning once again by presenting...this time about alternatives to dams and our Beyond Dams report. Unfortunately, I discovered during breakfast that the disc with my presentation on it had snapped in my bag, so I had to speak without the benefit of a PowerPoint presentation. Luckily, I lived and breathed this alternatives report for more than two years and could present on it in my sleep. It was a bit unnerving having nothing to distract the attention away from me. In general, I really enjoyed the presentations on the second day of the conference because the rest of my traveling companions were able to present about their experiences fighting dams in their countries, and I feel like I really learned something. I was especially impressed by Korea and Japan because I never knew how, despite their continued battles, successful their campaigns are.
After the conference ended, the rest of the group continued on to Meinung and the RWESA meeting. I was left to my own devices in Kaohsiung until the morning, when I was being picked up by some activists from Tainan for another speech and tour. While I was a little nervous being left to my own devices in a country where very few people spoke English, I was also very excited and actually had a really good time. Up until now, all of my time has been very scheduled, and I really hadn't had an opportunity to truly see any of the towns I had been in. In Kaohsiung, I was able to walk back to the hotel after the conference and really experience the streets. It was a Sunday night and they were definitely alive. All of the street shops were open and a ton of people were out (very different from the states on a Sunday night). I walked by night markets and street fairs and had an opportunity to window shop. Kaohsiung, like Taipei, is a very big city, so most of the goods for sale are similar to what you would find in America. There were no stores with traditional Chinese handicrafts, at least on the streets where I was. On my walk back, I also ended up catching the tail end of a parade and fireworks show. Very cool. Plus, for once I was able to choose my own meal, and I decided not to eat. I just had some black milk tea, which I really liked.
Once back at the hotel, I flipped on the TV, lay on the hard bed, and scrolled through Taiwanese soap operas, anime, and finally landed on some version of HBO.
Day 5
I was a bit worried about whether anyone would actually pick me up for Tainan, but it was all for nought. A group of the nicest activists picked me up outside of my hotel and drove me 1 1/2 hours north to Tainan and thus began my favorite part of my Taiwan trip. The group of Tainan were wonderful. They were extremely gracious and giving, making it their job to experience all Taiwan had to offer. Eric, Homer, Ivy, and Tracy (who had given themselves English names for the day to, I guess, make it easier for me...weird, I know) were dedicated activists trying to clean up the rivers around Tainan.
Once we arrived in Tainan, we set off to look at a local river that was polluted hog farm. Blood and other hog waste has been regularly dumped in the channelized river (which eventually flows into the nearby ocean). I had to force myself not to gag at the stench coming off of the water.
We continued to follow the river downstream, past many industrial pollution points. The water eventually began to take on a rainbow hew. What we typically found was industry along one bank and area farms along the other side.
As we traveled along this stretch of stream, they began to talk about lunch and asked me whether I would like American food or a traditional Asian meal. As hard as it was, I told them I wanted Asian food (I vowed to eat no American food on this trip). I'm sure I don't need to tell you how worried I was at this point, especially after seeing the kinds of water their fish had to live in and their crops were grown with. As it turns out, the restaurant was like a breath of fresh air and provided me with the best meal of the entire trip. Ivy, who seemed to be my personal cultural attache, made it her job to make sure I experienced everything, and while she ordered for me, she actually gave me a choice of fish or chicken, spicy, etc. I had an amazing spicy chicken with rice, miso soup, some vegetables, etc. She also ordered sides of spicy tofu, Taiwanese sausage, and sour/sugared plums for us to try. Everything was really great. And let me not forget the tea. I had cold oolong tea that was amazing...sweet, frothy. The thing I like about tea in Asian countries is that they seem to like it sweet. I also what in English is called Pearl Cream Tea. This tea is "chewy" tea that combines black milk tea with starch balls. As scary as this traditional Taiwanese tea sounded, it was actually quite good.
My favorite restaurant in Tainan
After lunch, they told me the story (and later took me on a tour) of another river and site in town. Evidently, a now defunct company that was once owned by Japan and later taken over by the Taiwanese government when Japan left had polluted a local river and fishing ponds with dioxins and mercury for many, many years. These fishing ponds were owned by local citizens who fished them for subsistence and to sell at market. Slowly, these villagers began dying from cancer. The group I was with is trying to hold the Taiwanese government, who knew of the polluting, accountable for cleaning up the site and paying restitution to the victims. They took me to the site of the abandoned factory, marching across polluted land and by the polluted fishing ponds. I met villagers dying of cancer, yet still forced to fish in ponds where fish rich in mercury and dioxins reside. They asked my advice. It was at this point that I realized they didn't need me to talk about dam removal during tonight's speech (as I had been led to believe) but needed to hear about the Clean Water Act and how ordinary activists in the United States have fought industry pollution for several years now.
Where the two polluted rivers meet the ocean in Tainan
Part of site polluted with dioxins
Fishing pond at the polluted site
At the speech that night, I did talk about dam removal because they insisted they wanted to hear about it and ended the night talking a little about the CWA and the work we did on the Hudson River. Overall, it was an amazing experience. Not only did I meet an amazing group of people, I really became comfortable speaking in front of people, especially extemporaneously.
Day 6
Because we saw so many polluted sites the previous day, my new friends in Tainan wanted me to see the beautiful part of the island and decided to take me east across the country to the mountains and the highest point in Taiwan. Talk about another awesome day. Being in the mountains was such a completely different experience from the rest of the country. It was breathtaking and sometimes scary (we'll get to that part in a minute).
On the way to the mountains we kept passing all of these smaller villages where one particular crop dominated the economy. For example, we passed miles and miles of mango trees, and one small town, which exports mangoes all over the world, had a statue of a mango. Further down the road, we passed a town famous for taro root and stopped for taro ice cream and taro cakes (fabulous). By the time we arrived at the entrance to the Meishan-Yakou Recreation Area, I was lulled into a quiet, blissful state.
Temple on the way to mountain range
Once we began our true ascent, you could really see the effects of the typhoons and earthquakes. Landslides were frequent, with sides of the mountain just sliding away into the abyss and sometimes taking part of the highway with it. I actually got a bit frightened (I believe the term 'oh shit' kept running through my mind) at one point as we had to off-road it a bit since part of the "highway" (basically 1 1/2 lanes winding along the edge of the mountains) was gone. In fact, the recent earthquake had taken out part of bridge, and we had to use a new portion of the road recently dug out of the mountain.
We also saw some amazing waterfalls and headwater streams cascading down the mountain. The pictures below don't do it justice, but they are far more adequate than my humble words could ever be.
Headwater stream cutting through a landslide
View from the top
As we made our way back down the mountain, I tried one last bit of local cuisine, stinky tofu. It did smell while cooking but was basically deep-fried tofu in a tasty sauce with cabbage...good. I wound down my trip with a quick nap before Kwang Kwang (Eric) picked me up at 1 am to deposit me on a bus for Taipei and my plane home. I got so much from this trip that it's hard to quantify it all here, but just trust me that it was an amazing (if sometimes trying) experience. It reaffirmed yet again that I love to travel and truly believe immersing yourself in different cultures is essential to truly understanding life.